10 Things to do in Reykjavík in December
December 21, 2018
Visiting Reykjavík in December is an experience you don't want to miss! Below are some ideas to make the most out of your December trip to Reykjavík.
Walking Laugavegur and Skólavörðustígur
Laugavegur and Skólavörðustígur are the main shopping streets in Reykjavík. While you walk around taking in the city's radiance it is well worth giving these streets a visit. Around this time the city is starting to take on its beautiful Christmas form with decorations, Christmas lights and a contagious atmosphere which is reflected on the streets and in stores and restaurants. Grab a hot chocolate and enjoy while looking at the many shops and restaurants that these streets have to offer.
Photo1 by Sölvi Logason on Unsplash
Photo2 by Evelyn Paris on Unsplash
Reykjavík Röst
If you need to warm up after your walk, then Reykjavík Röst is a great option!
Reykjavík Röst is a coffee house/bar in the Old Harbour in Reykjavík and was opened in the summer of 2017. They pride themselves on their quality coffee and homemade grilled sandwiches on sourdough bread. They also have vegan options; the soup is always vegan as is one of their sandwiches. Their hot chocolate is made with real chocolate and steamed milk + whipped cream and some cocoa & cinnamon powder. They have four different beers on tap, a full bar, bar snacks and platters in the evening with an amazing harbour view. It's the perfect place to sit down, enjoy great views over the harbour and Reykjavík´s surrounding mountains while sipping on a hot or cold beverage.
Photos by Ragnar TH
Northern Lights
December is a great month if you want to try your luck hunting for the Northern Lights. Escaping the light pollution from the city is a must when hunting for the Northern Lights. Our favorite Northern Lights tour to join is the Northern Lights by Boat tour from Reykjavik's Old Harbour, but of course we are a bit biased. Seeing the colorful auroras dancing in the sky combined with a boat tour is a spectacular adventure and a great way to end your day! It can be cold, but no worries – you will be provided with warm overalls and there is a café/bar on board, so you can grab a hot coffee or chocolate while enjoying the beautiful aurora view. Make sure to check out our post regarding all the things to know before your Northern Lights by Boat adventure to maximize your experience.
Seeing the city view from Hallgrímskirkja
Hallgrimskirkja church is one of the best viewing spots in the Reykjavik area, especially when the Christmas season is in full swing. The beauty of the lights combined with the white snow will truly raise your holiday spirits to another level (yes we are hoping for a white Christmas). Your perfect Reykjavik photo can be captured, and the view is just spectacular. You may even hear the church bells ring!
Photo by Wesley Gibbs on Unsplash
Whale Watching
A Whale Watching trip that offers a beautiful view of Reykjavik's Christmas glow from the sea is the perfect experience while staying in Reykjavik. You will sail out to Faxaflói Bay for your whale watching tour, and as we sail out you get a great view of Reykjavik's shore. On the tour you will be searching for the whales of Faxaflói Bay which may be everything from dolphins and harbour porpoises to minke whales and humpback whales. Make sure to check out our articles before your tour including some tips on how to photograph whales and info about Winter Whale Watching from Reykjavik. Seeing whales in their natural habitats is such a great experience and going whale watching from Reykjavik can be just magical!
Photo by Federico Facchin
Swimming pools
The Icelandic swimming pools and hot tubs are well engraved in the Icelandic culture. It's a very typical afternoon for the inhabitants of Reykjavík to lay back and relax at the hot tub followed by a hot sauna or a swim. All of the pools are heated by Icelandic geothermal water coming from the beneath the ground. The swimming pools are a great option to warm up after a cold December day, whether you have just been walking around town or if you enjoyed a whale watching tour or a day tour from Reykjavik to the Golden Circle, West- or South coast. Here you can see some of our favorite tours and combo tours available from Reykjavik.
Ice skating at Ingólfstorg square
Ice skating at the Ingólfstorg Square is a heart-warming experience in the heart of Reykjavík. The skating rink is right in the middle of the small Christmas Village at Ingólfstorg Square where you can stop by for some goods and refreshments after your Ice-Skating experience.
There is nothing more Christmassy than ice skating while listening to Christmas songs in Reykjavik's lively downtown environment.
The Whales of Iceland Exhibition
The Whales of Iceland Exhibition is a great way to spend part of your day while staying in Reykjavík. Get an idea of how big these creatures are while viewing the hand painted, life-size models. Whales of Iceland is the largest whale exhibition in Europe, including 23 live-size species that can be found in the surrounding waters around Iceland, including their history and facts. Standing beside these full-size creatures is simply adventures and the exhibition is a must for those staying in Reykjavik.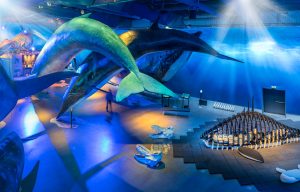 Photos by Ragnar TH
Bláfjöll Ski Resort
For those who like skiing, Bláfjöll Ski Resort is only a 25 minute ride from Reykjavík. The area has a variety of ski slopes to choose from for downhill skiing and snowboarding as well as tracks for cross-country skiing. Bláfjöll is a fun and an enjoyable day trip for individuals, couples, friends and families from Reykjavík
Ice Cream
Despite the cold winters here in Iceland, it is a well-known fact that Icelanders love ice cream. Every night long lines from in front of ice cream shops, and it's no coincidence since we have plenty of high standard ice cream shops in the Reykjavik area. If you're too hot after your hot chocolate or simply want to see what's the fuss is about, then we recommend getting an ice cream no matter the weather!
And one extra in case you are planning to stay in Reykjavík on New Years eve
If you are planning to stay over the New Years we highly recommend that you check out the New Years Fireworks cruise with Special Tours Wildlife Adventures. Reykjavik is world famous for it´s crazy fireworks display where each family purchases their own fireworks and bring them to the streets around midnight to fire them up and then the best place to be is out at sea so you can see the whole panoramic view of one of the most crazy and spectacular fireworks display in the world.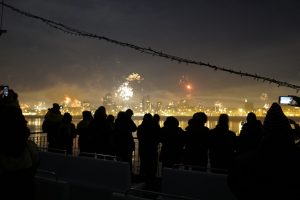 Photos from 2017-2018 Fireworks Cruise with Special Tours
Blog By Gunnar Kristinn Jónsson
Featured Image by Roan Lavery on Unsplash